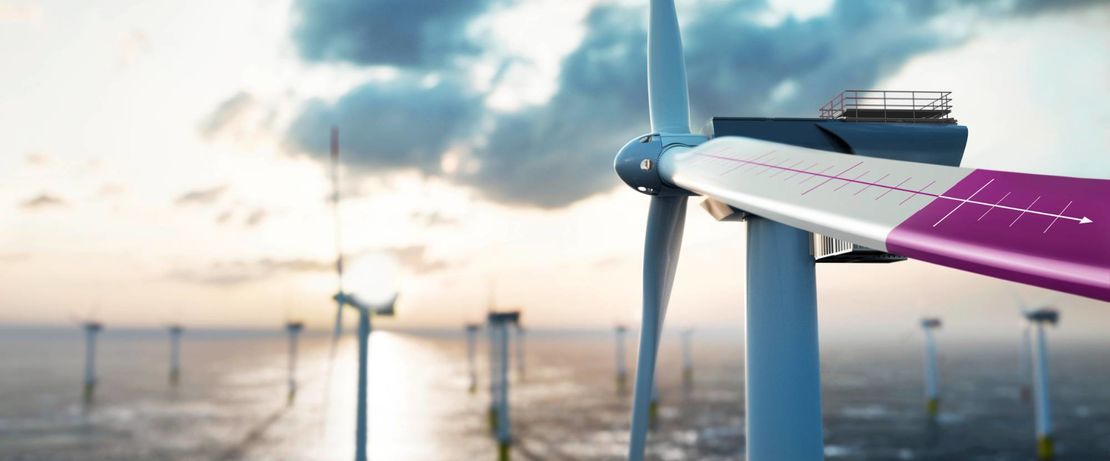 Adhesives for the next generation of wind turbine blades
Ancamide® curing agents with extended gel time for structural epoxy adhesives meet future challenges in wind turbine blade production
Driven by an increasing demand to achieve energy targets for higher electric capacity and efficiency of wind turbines, wind turbine blades have continuously increased in size over the years and the development of even larger ones is in progress. Along with that, the demands on the manufacturing side on bonding processes, have also changed as increasing bond line length require adhesive systems with extended gel times.
Addressing this topic, Evonik has further progressed the standard curing agent Ancamide® 3030 by extending its gel time from around 110 minutes to more than 250 minutes. Additionally, to provide formulators more flexibility, a series of curing agents with lower viscosities and even longer gel times has been developed. Besides their differences in gel time and viscosity, all curing agents offer a similar level of mechanical properties and thermal resistance after curing with a standard epoxy resin at 70-75°C for 5 hours. The respective properties in the uncured and cured state are summarized in the table.
With this series of new curing agents Evonik provides a versatile toolbox enabling formulators to cope with upcoming challenges in wind turbine blade production.
Summary of properties
| | | | | | | |
| --- | --- | --- | --- | --- | --- | --- |
| Curing Agent | | | | | | |
| | 10000-20000 | | | | | |
| | 100/50 | | | | | |
| | | | | | | |
| | | | | | | |
| | 64 | | | | | |
| | 2,47 | | | | | |
| | | | | | | |
Technical Data Sheet & Sample