New ultra-fast curing agent for adhesives applications 
Ancamine® 2914UF is an epoxy curing agent designed to achieve an ultra-fast cure speed at room temperature in adhesive applications.                  
In response to market demand for increased productivity and environmental friendliness, Evonik designed a new ultra-fast 2K epoxy hardener for structural adhesives applications. Ancamine® 2914UF curing agent not only sets within 10 minutes at ambient temperature but also off ers ultra-fast cure speed along with rapid property development. Another key benefit of this product is that it is an odorless non-Mercaptan, 100% solids, BPA-, nonyl phenol- and benzylalcohol-free curing agent. Additionally, it provides excellent mechanical properties and good thermal resistance. Figures A and B demonstrate selected performance properties of Ancamine® 2914UF (since most solvent-free fast cure systems for epoxy resin are Mercaptan, the attached figures use that system as a reference). These properties make Ancamine® 2914UF curing agent an ideal choice for the structural and general-purpose adhesives, where it allows end users to improve production throughput.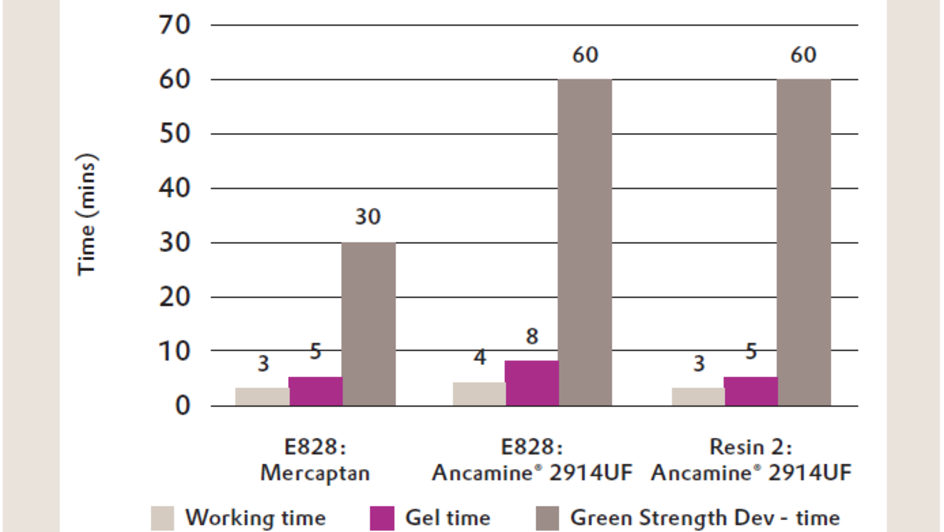 Amine Curing agents for adhesives
Discover the whole portfolio:
Get in contact: