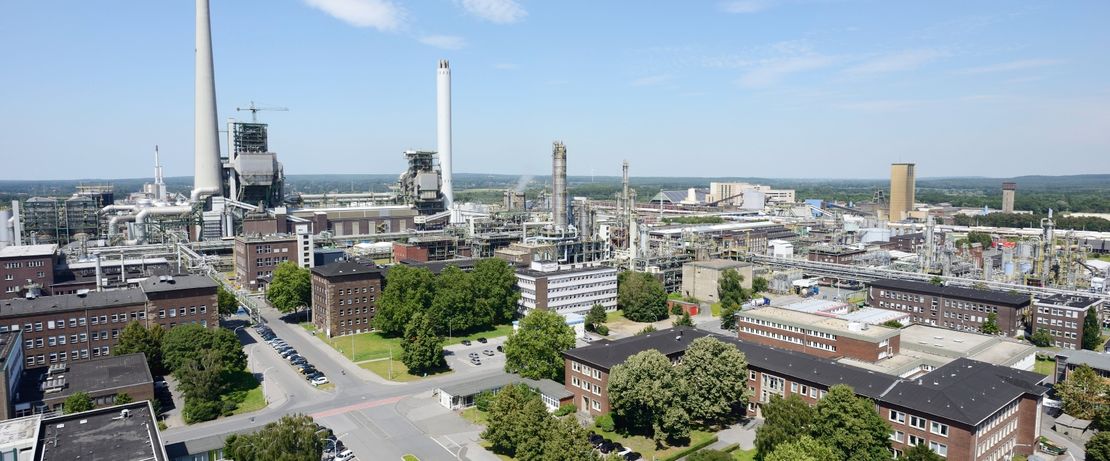 About Crosslinkers
Marl Site
The Marl site is located in the northern part of the "Ruhr" area and is one of the largest chemical parks in Germany, and Evonik's largest production location. The site covers an area of more than six square kilometers and provides around 10,000 jobs.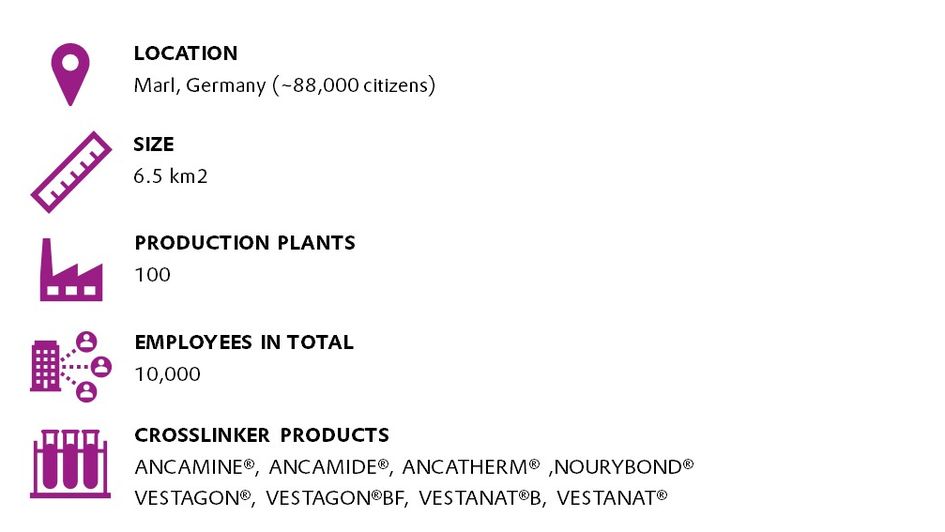 In addition to Evonik, its subsidiaries, and its affiliates, 17 other companies have operations in the Chemical Park. The roughly 100 production plants are linked in a tightly integrated material and energy network and are, for the most part, operated around the clock. Every year, over four million metric tons of products start their journey here on their way to destinations throughout the world. The energy requirements of the Marl Chemical Park are met by generating electricity and steam (combined heat and power) at two on-site gas-fired power plants and one on-site coal-fired plant.
Our Crosslinkers business line manufactures products in Marl under brand names such as VESTAGON® B, VESTAGON® BF, (crosslinkers for powder coating systems) and VESTANAT® B (liquid isocyanate crosslinkers for heat activated coatings). Also located in Marl are our state-of-the-art research and applied technology labs which plays a pivitol role in the development of new products, providing techncial support for our customers and process research testing.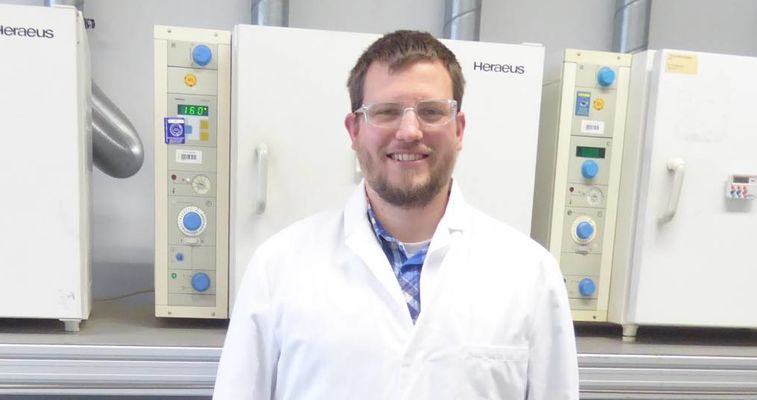 Dennis Menne, Technical Manager for Powder Coating
When I started in the Crosslinkers business line in 2009, I was not too familiar with powder coatings, even though they had been in use for decades at the time. Varnishes were always liquid for me until then which is not surprising, since consumers rarely came into direct contact with powder coatings!
However, since then I've been working at Crosslinkers in Marl, and now I fully appreciate and understand the advantages of using powder coatings. Due to their high efficiency and the absence of solvents, they are considered particularly effective and environmentally friendly. Some of the powder coatings also use our VESTAGON® hardeners, which we also produce here in Marl. With a great team in production, application technology and quality assurance here at the site, we ensure the consistent quality and safety of our products.
In the meantime, I also notice it in the end markets more and more how the environmentally friendly technology of powder coatings is advertised, e.g. for bicycles.