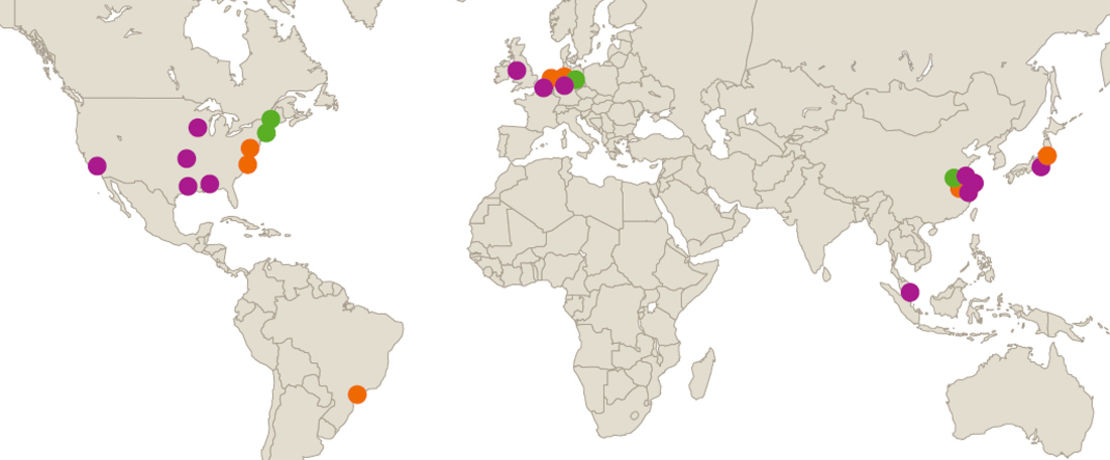 About Crosslinkers
Production sites for crosslinkers and epoxy curing agents
Our production sites in Europe, Asia and the United States enable us to ideally serve our markets
Closeness to our customers is a core value driving our success. Proximity allows us to bring benefits to you in a fast and efficient manner. Our experienced technical specialists have an in-depth understanding of your market requirements and are able to provide the right level of technical service and support you need.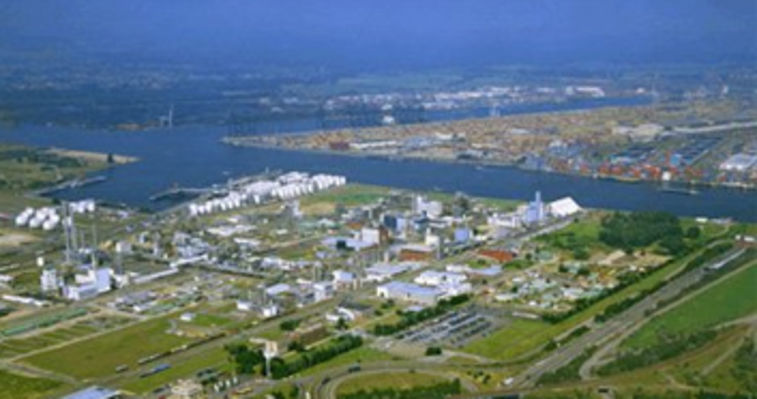 Evonik´s Antwerp site is located in the Belgian region of Flanders. With some 460,000 residents, Antwerp is a major seaport and the capital of the Antwerp Province.
The chemical site is home to twelve production units belonging to four Evonik business units. In addition to Coatings & Additives, the site includes production facilities shared by Inorganic Materials, Industrial Chemicals, and Health & Nutrition. Antwerp is one of Evonik Industries´ largest multi-user sites. The 109-hectare area was built in 1968 and is located on an artificial island between the Schelde River and the port of Antwerp, Europe's second-largest industrial port.
At the site the Crosslinkers business line operates units for the manufacture of VESTASOL® as well as VESTAMIN® products.
Antwerp is a key hub in the Western European pipeline network, not just for Evonik but also for the entire chemical industry. A large number of chemical base materials are transported via more than 100 pipelines in the Antwerp metropolitan area, with a total length of more than 350 kilometers, convey a large number of chemical base materials. Many other large petrochemical companies are located in the Antwerp site, making it the world's second-largest chemical production site after Houston, Texas.
Clayton site has been a chemical site since 1892 formally Anchor chemicals, purchased by Air Products in 1989 producing Epoxy Hardeners and PUA Additives, then purchase by Evonik in 2017.Clayton employs 64 People has 2 production buildings , Central Control Room, 7 batch reactor systems, Semi-automatic to fully automatic operates 24 hour, 365 day production. It's main products are Amine based Curing Agents for Epoxy Resins (120 products; 75% Volume) Catalysts for Polyurethane Foam (60 products; 20% volume) Surfynol Specialty Additives blends (20 products; 5% volume). Main industries/applications are Industrial Coatings – Marine & Industrial maintenance applications, Civil Engineering – Self-levelling and screeds floors, concrete coatings, Polyurethane Foam – Comfort & Insulation.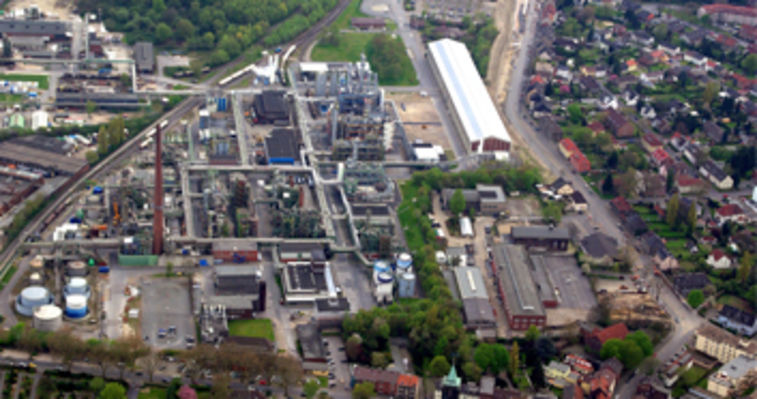 Evonik's site Herne is located in the centre of the German state of North Rhine-Westphalia, and thus in the heart of the Ruhr region.
The facility is a key employer in the entire region and an economic engine for the town of Herne (population 170,000). In 1936 Friedrich Krupp began to build a plant in Herne to produce tar, gasoline and paraffins in Herne in 1936 and thus laid the foundation for today's modern chemical site of Coatings & Additives. Today, production of isophorone and isophorone derivatives is the main activity at the Herne site.
The products manufactured in Herne are essential raw materials for the coatings industry with a wide variety of other applications. For example, VESTAMIN® crosslinkers are used in heavy duty corrosion protection systems and highly durable, solvent-free industrial floor coatings or in high performance composites, as for instance used for rotor blades of windmills. In addition, VESTASOL® is used to produce especially brilliant coatings and printing inks.
Isehara plant is located in Suzukawa industrial complex in Isehara-city, Kanagawa Prefecture in Japan where it is located about 45 km south-west away from the middle of Tokyo.
Isehara plant started the operation for the polyamide and modified amine basis epoxy curing agent in 1972 as Sunmide® brand. In addition, ANCAMINE® and ANCAMIDE® brands of epoxy curing agent products and DABCO® and POLYCAT® brands of polyurethane catalyst products of were lined up as Isehara products. Currently more than 100 items of products are produced at the site and these products are used in various industries.
Evonik's Los Angeles, Ca. site, located southeast of Downtown L.A. manufactures Epoxy Curing Agents that are used to coat structural steel, pipe, flooring and ships.
The site, which employs about 50, started production in 1966 and consists of multiple production reactors, warehousing, quality control lab and maintenance facilities.
The City of Vernon is purely an industrial city employing close to 50,000 employees. Residential population is less than 200. The plant is active in the Vernon Chamber of Commerce where the Plant Manager is on the Board of Directors. The plant interacts with the City of Vernon Urban Search and Rescue (USAR) and Hazardous Materials Response Team (HAZMAT).

The Vernon Plant makes over 250 different Epoxy Curing Agents under the trade names of Ancamine® and Ancamide®.
The Marl site is located in the northern part of the "Ruhr" area. It is the third largest chemical park in Germany covering an area of 6.5 square kilometers and employing approx. 10,000 people.
Currently, 30 different companies are located in this park producing more than 4,000 products in 100 production plants.
The Coatings & Additives business unit of Evonik operates five different plants in the park. Products of the Crosslinkers business line manufactured in Marl are sold under trade names such as VESTAGON® B, VESTAGON® BF, VESTAGON® HA (crosslinkers for powder coating systems), VESTANAT® B (liquid isocyanate crosslinkers for heat activated coatings) as well as VESTANAT® EP-DS (water-borne isocyanate crosslinkers).
Located in the state of Alabama, Evonik´s Mobile site is strategically located on the central Gulf coast of the United States, with prime access to key raw materials and transportation networks.
With large production facilities, an area of over 730 hectares (1800 acres), and a history that began over 35 years ago, Mobile is the largest site for Evonik in the North America region and today is one of the largest private employers in the Mobile area.
As a major part of the Mobile site, the Coating and Additives business unit first began operations in 1992 with the completion of plants to produce a range of Isophorone derivative products. Major expansions completed in 1996 (VESTANAT®) and 1999 (VESTASOL®) led to the current setup of a fully back-integrated production network servicing major industries with products from our VESTAMIN®, VESTANAT®, VESTAGON® and VESTASOL® brands of raw materials and crosslinkers.
Pasadena PMD plant was started up February 3rd, 2017 as Evonik Corporation.
The Pasadena Plant is an integrated plant to support the Comfort & Insulation (~85% of production volume) and Crosslinkers (~15% of production volume) Business Lines servings a global market base. The plant is designed to produce amine based catalyst, epoxy curing agents, and Amine intermediates for multiple market segments. The plant is a batch process using three reactors to make over 28 products using 40 different raw materials. All product is packaged on-site and distributed to offsite warehouses.
Evonik Industries has commenced an integrated production complex on the multi-user site China (MUSC). The new facilities were constructed on an area of 32,000 m².
Evonik starts comissioning in Shanghais new world scale plants for isophorone (VESTASOL® IP) and isophorone diamine (VESTAMIN® IPD). The company has invested over €100 million in the facilities, which will have an annual production capacity of 50,000 metric tons. Shanghai is the technologically most advanced production site worldwide. Evonik primarily plans to use the output of the new plants to serve customers in the coatings and paint, construction, adhesives, and composite industry in Asia.
In addition to the new production complex, Evonik built an application technology service center with state-of-the-art laboratories at the Xinzhuang site in Shanghai.
Singapore is an island city-state off southern Malaysia. It is a global commerce, finance and transport hub with a tropical climate and multicultural population. Singapore site is located on a 16,000 m² area at the west side of the Island.
The initial part of the site was constructed between 1981-1983. The production of Epoxy Curing Agent (ECA) as Sunmide® brand began in 1983. In 1992, Sunmide® brand was further expanded significantly covering Inks & Hotmelt Resin product range. In 1995, further addition of ECA production capacity was completed. From 2003 onwards, ANCAMINE® and ANCAMIDE® brands of ECA were introduced to the site. In 2013, the site began the production of polyurethane catalyst blend of DABCO® brand. Currently, the site manufactures more than 170 grades of all the above products.
The site operates on a 5 days X 24 hours per week mode with ~24,000MT p.a. capacity.