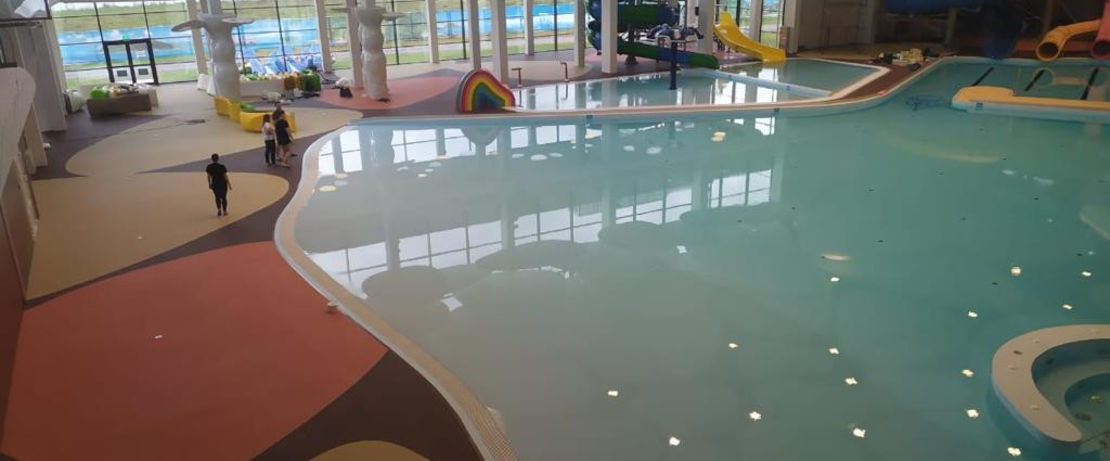 Product Stories
Slip resistant and good looking
Anquamine® 728 and Ancarez® AR555 improve anti-slip resistance and aesthetic appearance of flooring coatings.

No matter if the rain is pouring, the wind is storming or  the snow is falling from the sky: the new and unique indoor water park in the YES Recreation Center near the city of Vologda in Northwest Russia offers fun and relaxation all year round. About a dozen attractions promise unforgettable moments of enjoyment for all ages. From swimming pools with water slides to hamman and an open-air jacuzzi, from various types of saunas to a play area for kids and a bar for adults - in the YES water park every guest will get his money's worth. The new water park is designed for a capacity of 650,000 visitors per year.

To ensure the safety of the guests walking around the pools  and preventing falls and injuries, specific attention was given during the water park's construction to the flooring in the wet areas. This should not only comply with antislip standards but also with functional and aesthetic ones: Among others, this included (chlorine)water- and UV-resistance, easy cleaning, and a beautiful appearance at the same time. In order to meet the different requirements, the use of a high solid epoxy floor coating was essential hereby. To satisfy all constructor's needs, the innovative curing  agent Anquamine® 728 and Ancarez® AR555 solid epoxy resin dispersion from Evonik's business line Crosslinkers were chosen for the finishing layer by the manufacturer of the flooring. With this solution, the principal of the new YES water park received a floor coating that fulfills high demands in terms of safety, function and visual appearance, but also scores with zero VOC capability which helps to meet stringent emission requirements. By the way: the fast dry speed of Anquamine® 728 and Ancarez® AR555 allows applicators to get the job done quickly.

Looking for the right product?
Our Product Finder suggests solutions based on your application, desired functionality, system and more.