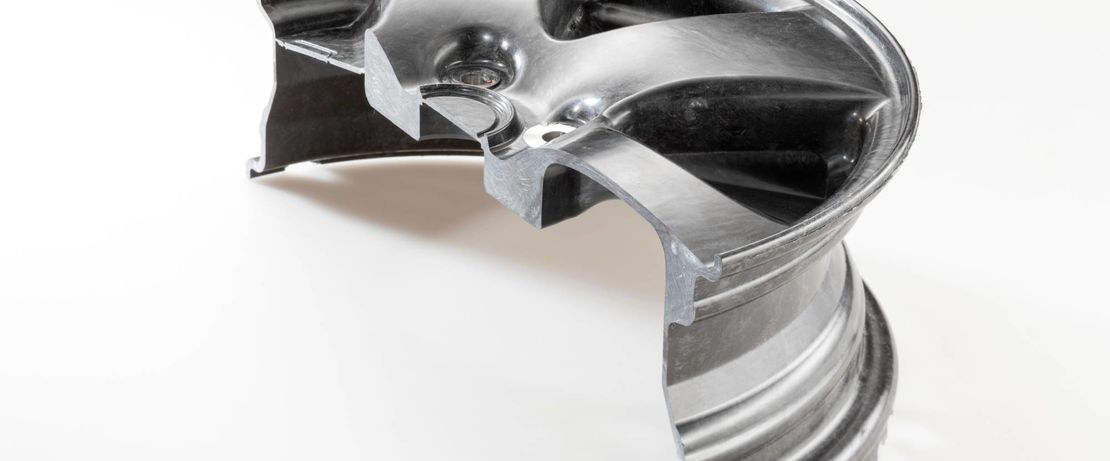 Press release
Crosslinkers
October 7, 2019
New epoxy hardener VESTALITE® S from Evonik makes sheet molding compounds fit for the mobility of tomorrow
Epoxy hardener improves quality and properties
Compound is flame-retardant and easy to work
Greater design freedom for electromobility and lightweight construction
The new epoxy hardener VESTALITE® S from Evonik improves the technical properties and workability of high-performance sheet molding compounds (SMCs). It allows greater design freedom and makes the composite materials fit for use in e-mobility and in automotive lightweight construction.
Conventional standard SMCs, which are manufactured with polyester resin, typically have mechanical properties such as a bending strength of 200 MPa, flexural modulus of elasticity of 10,000 MPa, and an impact resistance of 90 kJ/m2 at a density between 1.7 g/cm³ and 1.85 g/cm³. These are used today for the manufacture of automotive interior trim and hubcaps.
In vehicle construction, however, the demand is increasing for even lighter materials with further improved mechanical properties. These are the prerequisites for automotive lightweight construction and e-mobility.
"SMCs, where the formulation contains epoxy resin in place of polyester resin, have significantly better properties," explains Peter Ooms, sales manager at Lorenz Kunststofftechnik GmbH. "However, up till now, these thermosetting plastics were difficult to work with. They were therefore not a practical option."
Based on its proven SMC base formulation, Lorenz Kunststofftechnik GmbH has developed an epoxy SMC that meets all the requirements for lightweight construction and flame resistance. The key component is VESTALITE®S, a diamine-based epoxy hardener.
"In combination with epoxy resins, VESTALITE®S produces a SMC material that is easy and quick to work with," says Dr.-Ing. Leif Ickert, who is responsible for marketing of composites and adhesives in Evonik's Crosslinkers business line.
The SMC material that is manufactured with VESTALITE®S exhibits high storage stability before hardening, but still permits fast curing within three minutes. "Adding to that the flow and deformation properties of semi-finished compound for pressing are better, which enables higher component quality," adds Ickert. These SMCs have no styrene emissions and very low VOC emissions, making them suitable for automotive interior components.
The composite material made of epoxy, glass-fiber reinforcement and fillers has a density between 1.5 and 1.7 g/cm³ and good flow properties. It also has the following mechanical properties: Bending strength > 350 MPa, flexural modulus of elasticity > 18,500 MPa, and impact resistance > 150 kJ/m2. The material is also extremely flame-resistant and has high impact resistance even at temperatures of -30 °C, so there is no risk of brittleness or breakage.
These properties make the epoxy SMC ideal for use in battery housings in electric and hybrid vehicles. Up until now, these components have been made of steel or aluminum, since they need to be very strong and stable to hold the heavy batteries, resist kinetic energy in collisions, and they must also present no additional risk in case of fire.
At the K trade fair in Düsseldorf (from October 16 to 23), Lorenz Kunststoffe GmbH will present its new epoxy SMC for the first time (Hall 7a, Stand C35). You can meet the Evonik experts in Hall 6, Stand B28, to find out more about this and other high‑performance materials from the specialty chemicals Group.
COMPANY INFORMATION
Evonik is one of the world leaders in specialty chemicals. The focus on more specialty businesses, customer-oriented innovative prowess and a trustful and performance-oriented corporate culture form the heart of Evonik's corporate strategy. They are the lever for profitable growth and a sustained increase in the value of the company. Evonik benefits specifically from its customer proximity and leading market positions. Evonik is active in over 100 countries around the world. In fiscal 2018, the enterprise with more than 32,000 employees generated sales of €13.3 billion and an operating profit (adjusted EBITDA) of €2.15 billion from continuing operations.
ABOUT RESOURCE EFFICIENCY
The Resource Efficiency segment is led by Evonik Resource Efficiency GmbH and produces high performance materials and specialty additives for environmentally friendly as well as energy-efficient systems to the automotive, paints & coatings, adhesives, construction, and many other industries. This segment employed about 10,000 employees, and generated sales of around €5.5 billion in 2018 from continuing operations.
ABOUT CROSSLINKERS
The Crosslinkers Business Line offers a broad range of products and competences for coatings and adhesives, as well as for high-performance elastomers and composites. Besides products based on isophorone chemistry the portfolio contains a full toolbox of amine curing agents for ambient and heat cure applications. The products are mainly used in industrial applications due to the mechanical strength, durability, chemical resistance and excellent adhesion properties.
www.evonik.com/crosslinkers
DISCLAIMER
In so far as forecasts or expectations are expressed in this press release or where our statements concern the future, these forecasts, expectations or statements may involve known or unknown risks and uncertainties. Actual results or developments may vary, depending on changes in the operating environment. Neither Evonik Industries AG nor its group companies assume an obligation to update the forecasts, expectations or statements contained in this release.